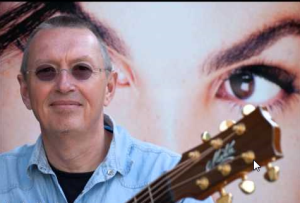 Ernst van der Sloot cannot be denied any courage. Release an album with Dutch translations of nine songs by JJ Cale and one by Eric Clapton. Ernst van der Sloot did all the edits, lyrics, playing the instruments and the final mix himself for the album Translated Blues. The release contains ten songs and is recorded in Dutch Prairie Studios. Van der Sloot has been festival director of the Acoustic Strings Festival, owns DOC's Cultural Concepts and plays in the festival band/street theatre act What's Up Doc? See for more.
Op weg naar huis voor Kerstmis

Les uns et les autres

Zo gaan de dagen voorbij

Met de E-bike

I've been boozing around

Memories of today

Just another Sunday in Amstelveen..

De wereld om mij heen

Modderland

Zondag morgen

To be loved by you

NOGGUS + Tom Veltien – Wind in de Polder

Tom Veltien & Ernst van der Sloot – Lost souls in the wood

& Tom Veltien – Is dit het einde of een nieuw begin

Bert de Jong & Ernst van der Sloot – Lazy Sunday

Just2Guitars – "UNCUT"

Just2Guitars – Tom Veltien & Ernst van der Sloot

Is dit het eind misschien? (volledig album)

Tulpen Blues

When the darkness comes

Overijsselse Vechtdal liedjes

Vertel!

Voorbij

Bert de Jong en Ernst van der Sloot – Blues number 5

Zonder schaduw geen zon

Nergens heen..

De winter voorbij